CVA Paramount Picatinny Scope Rail - 20 MOA Fits all Paramount Muzzleloaders (20 MOA) - MZ1920-20
Aircraft-grade 6063 T6 aluminum picatinny scope rail
Fits CVA™ Paramount, Paramount Pro & Remington UML
Original price
$39.99
-
Original price
$39.99
Description
---
The Muzzle-Loaders CVA Paramount 20MOA Picatinny Scope Rail was designed to give stability and precision to long-range muzzleloader shooters. Besides being the go to rail for the Remington 700 UML, this base also fits the CVA Paramount and CVA Paramount Pro rifles. The 20 MOA Picatinny Style Base allows you to be sure that your rifle scope will stay in place, every time.
The Remington 700 Short Action Picatinny Rail is machined from High-Quality 6063 T6 Aircraft-Grade Aluminum that is engineered to handle even the highest recoil rifles. At Muzzle-Loaders.com our goal is to provide quality products, at an affordable price for our customers. When designing this base, we wanted a high-quality rail that would stand up to the elements, as well as high recoil, precision muzzleloaders. After testing we feel that this base is one of the strongest on the market and is a great option for any shooter.
The rail is 20MOA meaning the base is canted down in the front toward the barrel. By canting the base down in the front, this is what allows for more usable elevation adjustment in the scope. To help explain how this works, please take a look at the illustration below.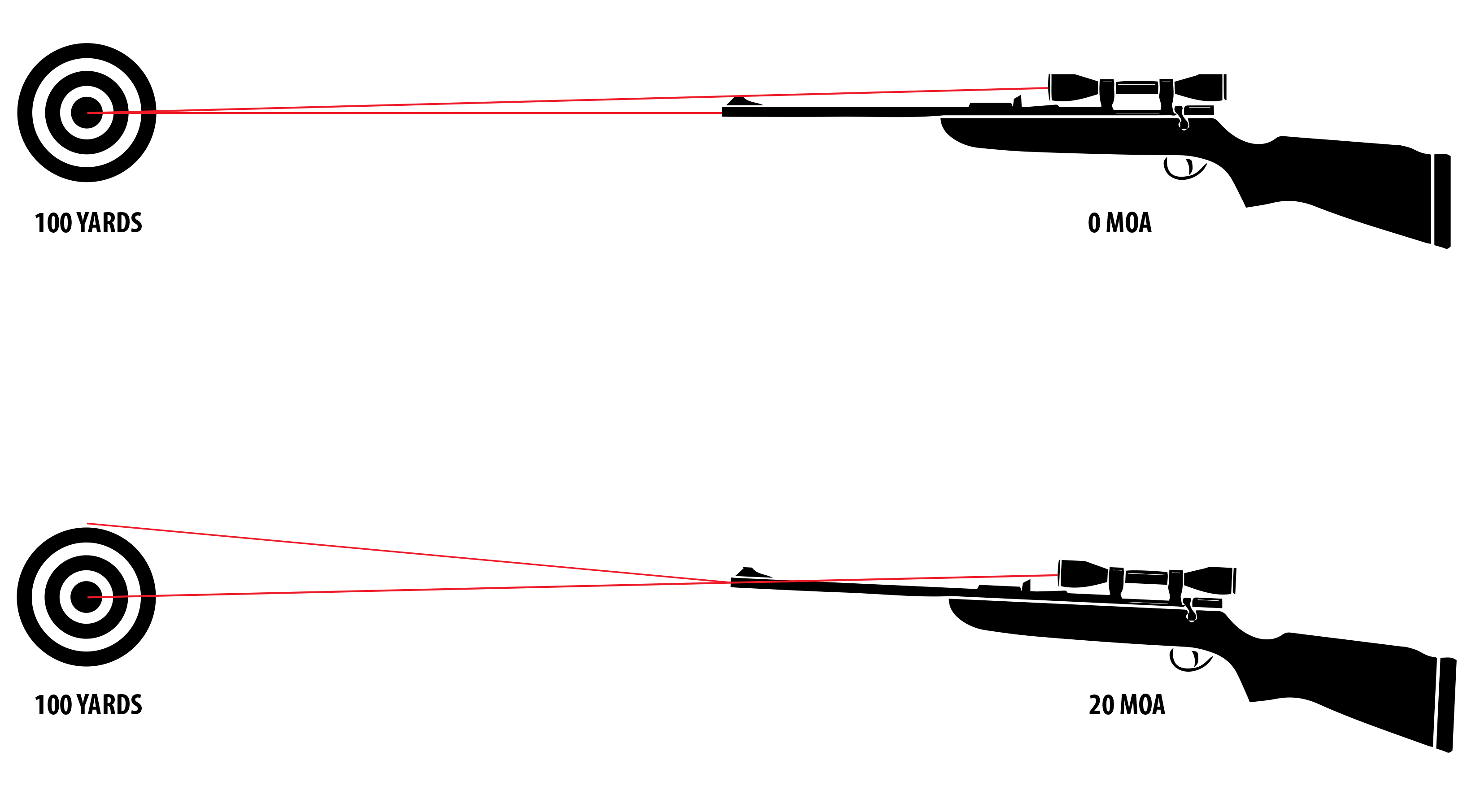 If we had a rifle with a 0MOA base, and there was a laser going through the middle of the scope, and the middle of the rifle bore that went forever, and lets say the rifle was zeroed at 100 yards, those 2 lasers would intersect at that 100 yard target. If we then changed to a 20MOA base, the scopes laser would be on target, and the rifles laser would be hitting the target 20 inches high. This is essentially how a 20MOA base works, since you are now hitting 20 inches high, you can dial the scope back so the rifle is zeroed at 100 yards again, and you have an extra 20 inches of elevation to work with.
This rail is designed to fit the Remington 700 UML, CVA Paramount, CVA Paramount Pro and all Remington 700 Short-Action rifles. Also, all Muzzle-Loaders.com rails carry a Lifetime Warranty.